Update Detroit Boil Water Advisory.
As of August 16, 2022 this is what we know: A boil water advisory remains in effect for seven Metro Detroit communities.
It's in the news: the Great Lakes Water Authority has issued a Boil Water Advisory for almost 1 Million people living in Metro Detroit.
watch the video On The right way to Boil your water ⬇
We spoke with our Medical Expert, Dr. Puja, to ask about the boil water advisory. We wanted to know more about the harmful bacterial contamination that can occur in the water system in these types of situations.
The Expert Opinion:
Look here's the thing these types of water main breaks are generally safe in America. We have a system to keep us protected.
You're going to boil your water. Bring your water to a rolling boil. You're going to let that water boil for a full minute.
And, none of this "oh it's kind of bubbling boil." The water has to Roar.
This will generally kill most of the common bacteria that can harm you.
Now what I want you to know: if your water isn't boiled properly, generally, there are three types of bacteria that can cause, harm to you and your body.
The three most common types of bacteria and parasites that come from this type of situation are:
Giardia
E. Coli
Legionella
Giardia, is a parasite. Giardia can cause profuse diarrhea. This can be harmful, especially to senior citizens and young children.
E. Coli, is a bacteria. E. Coli can cause bloody diarrhea–again nobody wants that.
And the other type of common bacteria is something called Legionella. Legionella can cause pneumonia.
So, I'm going to repeat it again nobody wants this.
You can prevent all this by bringing your water to a roaring boil for 1 minute.
We're going to have to hear back from Detroit Great Lakes Authority to know when everything is resolved.
The common treatment for these infections is, generally, antibiotics. If you're suddenly ill, and you think it could be because of the water, please go and talk to your doctor.

It's Quiz Time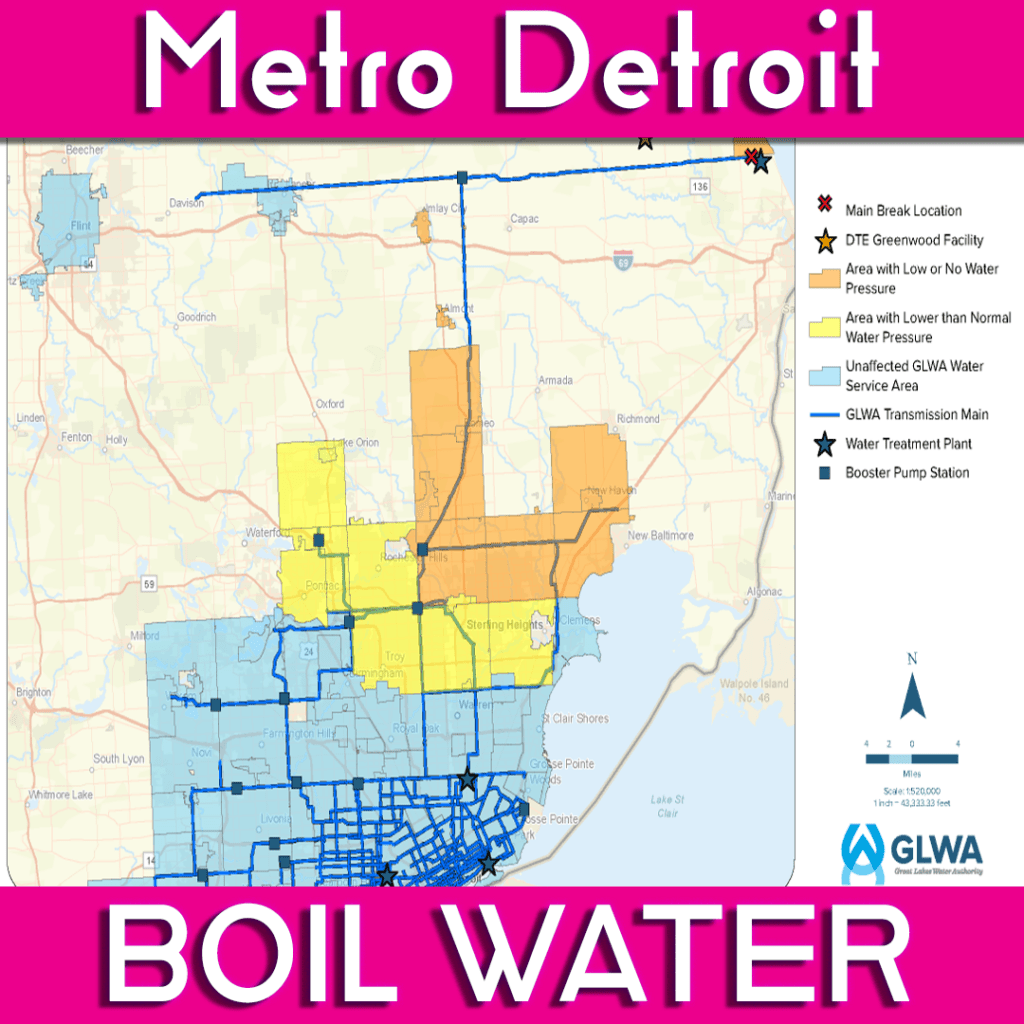 What are the different types of Boil Water Advisories?
Boil Water Advisory.
Do Not Drink Advisory.
Do Not Use Advisory.
The CDC Stated: "Drinking water advisories let people know that tap water could be contaminated and make them sick. Advisories tell people, schools, hospitals, businesses, and others about the situation and how to take immediate action, if necessary. Water systems and state or local agencies issue these advisories when they have concerns about water contamination.
What cities have a Detroit Boil Water Advisory?
According to the Great Lakes Water Authority (GLWA), here are the cities and communities that have the boil water advisory for August 13.
Almont
Auburn Hills
Bruce Township
Burtchville Township
Chesterfield Township
Clinton Township
Flint
Flint Township
Imlay City
Lapeer
Lenox Township
Macomb Township
Mayfield Township
New Haven
Orion Township
Pontiac
Rochester
Rochester Hills
Shelby Township
Sterling Heights
Troy
Utica
Washington Township
The Great Lakes Water Authority issued a statement and said: "Bacteria are generally not harmful and are common throughout our environment. Boiling water before using it will kill bacteria and other organisms that may be in the water."
The cause of the water main break is still under investigation.